Being the exclusive distributor of the Australian company Ore Research & Exploration Pty Ltd, EnProTech Ltd is actively engaged in the promotion of OREAS CRMs, making this product more and more popular among laboratories and geologists of mining enterprises in Russia and the CIS countries. Unfortunately, the registered abroad trademark does not have any protection and valid force within the territory of Russian Federation. Thus, continuing to develop the popularity of OREAS CRMs, EnProTech Ltd together with partner Ore Research & Exploration Pty Ltd have decided to register the OREAS trademark in Russia.
Finally, on January 13th 2020, the OREAS trademark has been registered in the State Register of Trademarks and Service Marks of the Russian Federation.
For EnProTech Ltd, as a reliable partner and a successful supplier, it is important to support the brand development of the products offered, as well as to guarantee its Customers the quality and originality of the goods supplied.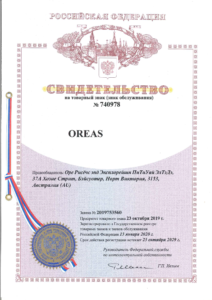 Published: 2020-01-15