Set the goals and achieve them – this is how we can characterize the movement of our company on the Russian market of equipment suppliers for the mining industry. We have become the guarantor of stable work for many leading laboratories of the mining enterprises.
Recently we have been awarded on one more Successful Supplier 2020 that recognizes the high level of EnProTech's reliability. We have won this award thanks to the contribution of each member of our team. We were included in the TOP 1000 of the Best Suppliers on the B2B-Center. B2B-Center is one of the largest portals for tenders. This title additionally emphasizes that we perform our work professionally and cooperation with EnProTech Ltd is always the way to success and growth.
"Thanks to the selection criteria, only those companies that are really struggling for new orders and their Clients, doing a great job to develop their business, are included in the list. Therefore, we are happy to tell about them to the market and potential customers", – said Andrey Boyko, Commercial Director of B2B-Center.
The status of Successful Supplier 2020 was one of our goals, and we achieved it working hard all year. Since we started working at the B2B-Center site, we receive this honorable status every year. We can state confidently that the title of 2021 is around the corner.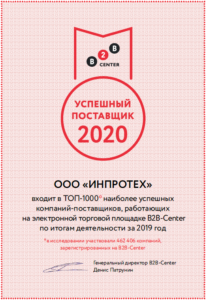 Published: 2020-03-23